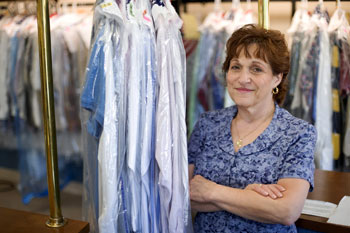 Why Choose Us?
Personal service, dependability and affordable pricing have kept customers coming back to Sunray Dry Cleaners since our family opened the doors in 1950's. Today, we have customers throughout West Roxbury and the Greater Boston area that we're proud to know as friends and neighbors.We appreciate your business and continuously strive to excel in the range of services we provide.
Over the years, we've cleaned wedding gowns, christening gowns, prom dresses and graduation suits as our friends' families have grown. We're probably ironing business shirts for the great-grandchildren of some of the original Sunray customers,we want to be the Dry Cleaner of your grandchildren also.
We've worked to hard to keep up with changes in the dry cleaning industry, and to always have the latest, cleanest technology. Our expertly-trained staff knows how to best care for all types of garments and household linens. We remove stains, prevent damage, and extend the wearable use of your garments. When misfortune strikes, count on Sunray for fast and affordable restoration from smoke or water damage. Our in house master tailor can fix a tear, restyle a fashion or alter to fit.
We use only the cleanest Eco friendly, Earth-safe procedures and products — keeping the environment clean and delivering your cleaning without chemical smells or residue. Of course, we recycle hangers and more.
Try our 24-hour VIP Express Service next time you're in a hurry. And our in-by-10am, out-by-3pm same day service simply can't be beat.
Services We're Famous For
We offer a wide variety of dry cleaning, wet cleaning, linens, and shirt laundry to fit the individual needs of our clients.