West Roxbury's Best Local Dry Cleaner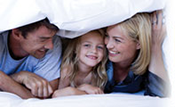 Personal service, dependability and affordable pricing have kept customers coming back to Sunray Cleaners since the 1950's. Today, we have customers throughout the Greater Boston area that we're proud to know as friends and neighbors. We appreciate your business and continuously strive to excel in the range of services we provide.
Pet hair management.
Pet hair can clog a washing machine, preventing proper drainage, clumping in drains or sticking to the side of the machine. They recommend removing the hair from clothes with a lint roller or masking tape. For bedding, put on a rubber glove, dampen i