West Roxbury's Best Local Dry Cleaner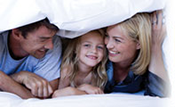 Personal service, dependability and affordable pricing have kept customers coming back to Sunray Cleaners since the 1950's. Today, we have customers throughout the Greater Boston area that we're proud to know as friends and neighbors. We appreciate your business and continuously strive to excel in the range of services we provide.
Thanksgiving leftovers.
If candles dripped on the tablecloth, let everything cool and peel the wax off with your fingers. If it's stubborn, freeze the tablecloth, then scrape off the wax with a credit card. Wash in hot water to remove the remaining embedded wax.